Wedding Inspiration: Hearts ♥
Wedding Inspiration: Hearts ♥
What better way to celebrate two hearts becoming one than a theme that highlights your love, loud and proud!
Hearts are romantic any way you use them for your wedding—decorate your aisle with heart confetti instead of rose petals (also a budget-friendly exchange!); give your guests heart-shaped bubble favours; send invitations  and thank you cards; incorporate the shape into your accessories; hang them as lanterns; and more! 
We ♥ the following finds, and are super excited to share the love with you!
Sweetheart for a sweetheart
 This neckline was all over Spring 2013 runway bridal collections. From high-end designers like Amsale Blue Label  to the more affordable David's Bridal (did you know they have tons of options for gowns under $600, and they ship to the UK?), this classic look tops the charts—and your dress—with style.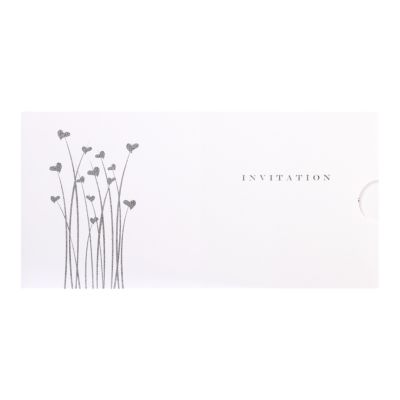 Pocket perfection. Put your heart on a sleeve with this side-pocket wedding invite, which features softly swaying, sparkling "flower" hearts on the front and inside. Take a closer look at the Summer Breeze Day Invitation.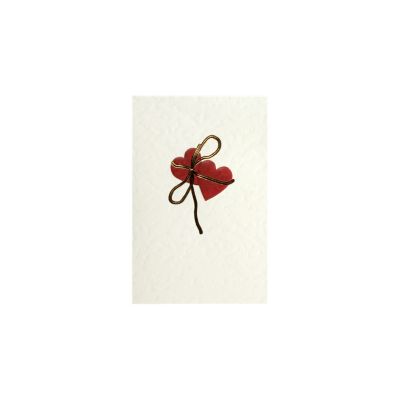 DIY, deary. If you're the kind of bridey who likes to be involved in all aspects of your special day. Get in on the invite-making action, check out the Tying the Knot Make Your Own Pack.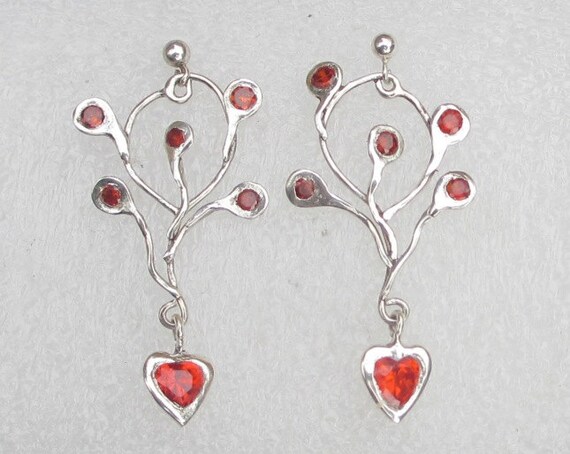 Hearts on fire! 
These Flaming Hearts garnet earrings in sterling silver from Etsy designer zilvera add warmth to your look, and have just the right mix of sophisticated and sweet, without looking girlish.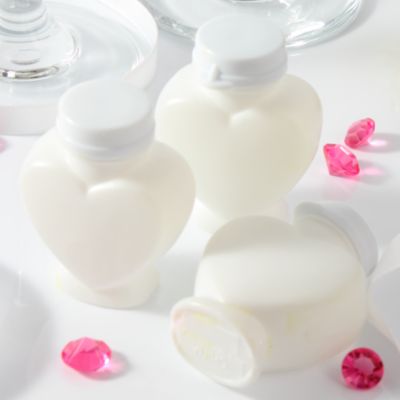 Bubbly, anyone?
OMG, how fun is this?! Place these blow bubbles on each seat during your ceremony so guests can blow you heart-shaped kisses when you're an official Mr. and Mrs. Or, place them on reception tables for the kiddies (and adults, who are we kidding) to play with all night. Guaranteed fun the young and old, get your Heart Shaped Bubbles.
Hungry heart
This heart cake found on Conversation Pieces blog by I Am Baker is simply irresistible. What a fun surprise that's inside—you almost don't want to eat it…well, um, maybe that's not quite true. Warning: Don't try this at home!
Banded together.
Love it so much that you want to carry the theme on forever-ever? Look for a wedding band, like this Cloaked in Hearts Band, a vintage beauty from Gemvara, which is 14K rose gold with diamonds and rubies. Precious stones, for a precious lady!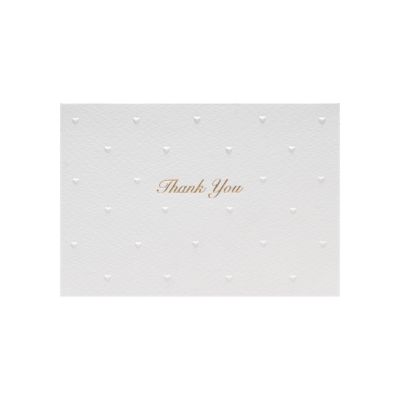 Thanks again.
It doesn't get sweeter than this thank you card with tiny de-bossed hearts and a gold-foil "Thank You" on the front. You can use it for your wedding, and any future thank yous, too—it's a classic! Perfect for couples hung up on the details, discover the Pearlesque Thank You Card.
Find Heart Themed Invitations In Store 
You have only scratched the surface of heart themed wedding stationery available from B&G, whether its in the shape of hearts or featuring heart styling - we've got it! To make it easier for you to find the perfect heart wedding invitation, B&G have specially created a collection of heart themed invitations.
Share your sweet heart-inspired wedding photos with us! It's super-simple to do. Just go to our submissions page.
Leave a comment